PhD Students
William Castro (Mentor: V. Eterovic)
Neuroprotection after ischemic stroke
Pedro Feliciano  (Mentor: M. Bykhovskaia)
Synaptic transmission and epilepsy
Agustin Gonzalez (Mentor: M. Bykhovskaia)
Synaptic vesicle fusion
Heidi Matos (Mentor: M. Bykhovskaia)
Neuronal communication and plasticity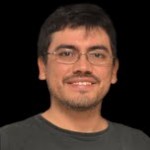 Eduardo Quiroz (Mentor: R.  Jorquera)
SNARE proteins in synaptic transmission
Maneida Rivera (Mentor: R.  Jorquera)
Role of SNARE proteins in Vesicle Cycling
Carol Torres (Mentor: M. Bykhovskaia)
Synaptic growth and plasticity
 MS Students
Paloma Álvarez (Mentor: H. Martins)
Anti-apoptotic properties of 4R cembranoid after brain ischemic injury
Herson Astacio (Mentor: A. Vasin)
Evoked and spontaneous synaptic transmission at the level of individual active zones.
Marimee Carrasco (V. Eterovic)
Neuroprotective properties of cembranoids
Marie del  Perez (P. Ferchmin)
Excitotoxicity, apoptosis, and neuronal death.
Liliana Llopart (H. Martins)
Anti-inflammatory properties of 4R cembranoid after brain ischemic injury.
 BS Students
Juan Camacho (Mentor: M. Bykhovskaia)
Synaptic vesicle cycling at hippocampal neurons
Hector Fonseca (R. Jorquera)
Knock-Down of Neuronal Proteins by RNA Interference
Alexandra Ortiz (W. Velez)
Mechanism of action of 4R as an anti-inflammatory agent.
Krist Quinones (Mentor: M. Bykhovskaia)
Role of synaptic proteins synapsin II and Rab3a in synaptic plasticity at the hippocampus